The Dark Knight
Filmen The Dark Knight er en 152 minutter lang action thriller fra 2008, instrueret af Christopher Nolan. I hovedrollerne ser vi Christian Bale, Michael Caine, Heath Ledger og Aaron Eckhart.
Detaljer
The Dark Knight Title Card
The Dark Knight Title Card
Udgivelsesdatoer
The Dark Knight premiered in cinemas on 23 juli 2008.
Find flere titler, der havde havde premiere i biograferne i juli 2008 eller havde premiere i biograferne 2008.
Videoer
Alle deltagere
Vi har oplysninger om 66 personer, der har arbejdet på "The Dark Knight". En komplet liste kan ses nedenfor.
Samlinger
The Dark Knight er i kollektion:
Bedøm denne titel
Har du set The Dark Knight? Bedøm det, så andre kan se, om det er godt eller dårligt.
Log ind på din konto, hvis du vil bedømme denne titel.
Artikler
The Dark Knight er nævnt i to artikler:
Film musik
Find musikken fra "The Dark Knight".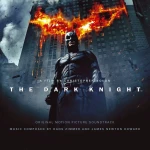 Albummet The Dark Knight (Original Motion Picture Soundtrack) fra 2008 består af 14 sange af Hans Zimmer og James Newton Howard.
The Dark Knight (Original Motion Picture Soundtrack) Sangliste